The Cincinnati Enquirer - Bias in the Media
EmpowerU Studio at Frame USA
225 Northland Blvd
Cincinnati, Ohio 45246

Wednesday, April 19, 2017


Last semester, EmpowerU discussed Bias in the Media in detail and it was one of the most popular, watched classes ever.

EmpowerU's MediaAccountabilityProject.com, was an effort to look at whether Bias in the Media existed at the Cincinnati Enquirer for two weeks up to the Presidential Election in 2016. The results of EmpowerU's research have been much discussed and reviewed.

Now it is time for the Cincinnati Enquirer to give us their thoughts about Bias.   Does it exist?  Does it exist at the Enquirer?   Was the Media Accountability Project accurate or just a one-sided look at facts?   

Join Pulitzer Prize-winning editor Peter Bhatia, who will discuss one of the most important topics on people's minds….and one that is sure to continue to be important for many years to come.

As a prelude to Mr. Bhatia, Brian Shrive, an attorney,  will tell us about transparency and the important legal settlement of the City of Milford and their closed-door meetings.   EmpowerU has always been concerned about Ohio's Sunshine Laws and we feel this case is of the utmost importance to the public.
Brian Shrive, Attorney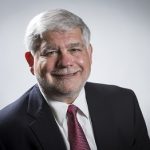 Peter Bhatia, the newly named Editor and Vice President of Audience Engagement at Enquirer Media, poses in the Enquirer Studio in Downtown Cincinnati, on Thursday, July 23, 2015.

To attend this class virtually click here after 6:50 pm the night of the class.