This Class is Being Offered as an In Person Class Only.
EmpowerU Studio at Frame USA
225 Northland Blvd
Cincinnati, Ohio 45246

Thursday, September 21, 2023

This Class is Sponsored by Douglas and Terry Robinson
EmpowerU's Opening Night with Music, Friends and Potluck!
This Class is Live in the Studio Only!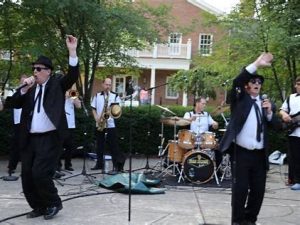 From the soles of their iconic white socks to the tops of their famous Fedoras, The Sensational Soul Brothers give you and your audience a show they will remember for a long time to come. Performing the great R&B and Soul classics from the 1980 original Blues Brothers film, along with several songs from the Blues brothers 2000 movie, their 1978 concert tour and their appearances on Saturday Night Live. The Sensational Soul Brothers add their own original comedy bits while staying  true to the great music of that era and we throw in a couple of surprises every show with lots of audience participation.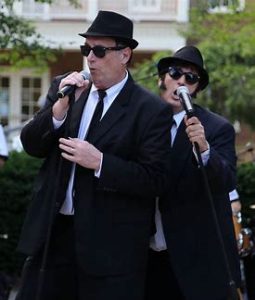 This class will be offered in-person only, please register below below–as seating is limited– and don't miss this class!   We encourage for you to attend the potluck before the show that starts at 6:00 PM.  Please bring an appetizer or dessert to share.  Also, feel free to bring adult beverages to the event and potluck if you choose to.  EmpowerU will provide Sloppy Joes and Sides!    Otherwise, the show starts at 7:00 PM and runs until 8:30 PM.
Speaker Bios: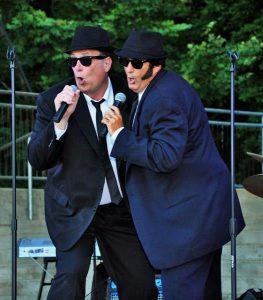 For the last 10 years, Lonnie Freeman (Jake) and Malcolm Spence (Elwood) have been entertaining audiences throughout Ohio as The Sensational Soul Brothers.
Lonnie, in addition to recapturing the look and vocal stylings of John Belushi from The Blues Brothers, is an Elvis Tribute Artist both with a complete backing band or using pro backing tracks. Lonnie has been entertaining audiences as an ETA for the last 30 years throughout the USA. 
Whether it is the 1960s or 1970's Las Vegas days that he is performing, Lonnie has the looks, moves and voice to maintain a performance of remarkable authenticity.  Lonnie is the whole "Elvis Package." You can always count on him to be respectful of the legacy of Elvis! 
A dedicated performer, Lonnie provides a very high-energy, interactive show that you and your audience will not soon forget. Lonnie will keep your audiences rockin' and rollin' all night long!
Malcolm has been recreating the performance of Dan Ackroyd as Elwood Blues right down to his harmonica solos and dance moves. Malcolm does a solo singer/songwriter act (The Eclectic Campfire). Malcolm's Eclectic Campfire show makes him known as the man of 1000 songs. Whether you want soft background music for your event, or a full-out party sing-along evening Eclectic Campfire can deliver a grand-slam of entertainment.  
Specializing providing music for Birthday/Anniversary Parties, Class Reunions, Banquets or just your backyard gathering, An Eclectic Campfire show material consists of Pop Rock and Country music from the 1950s-1980s (song list available on request), all done in a unique guaranteed-to-entertain style.