Overcoming Addiction and Re-Entry into Society
EmpowerU Studio at Frame USA
225 Northland Blvd
Cincinnati, Ohio 45246

Tuesday, March 14, 2017


To View a Complete Recording of This Class Click Here

Brandon Swinehart will share his experience with heroin addiction, life on the streets, recovery and his re-entry into society.

The first half of the class will focus on the progression of the disease of addiction and how a young man from a good home in Cincinnati ended up on the streets of San Francisco a homeless heroin addict.

The second part of the class will be Brandon's journey into recovery and gradual re-entry into society. He will discuss the fears, stigmas and barriers (real and perceived) he faced along his journey putting his life back together.

Twelve years later, Brandon Swinehart is a loving husband and father, a helpful son, a great sales rep, business owner and very strong believer in 2nd chances!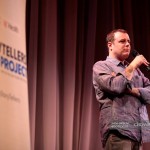 Brandon Swinehart

To attend this class virtually click here after 6:50 pm the night of the class.