Hear about Elder scams, let the Prosecutor know what is important to you.
EmpowerU Studio at Frame USA
225 Northland Blvd
Cincinnati, Ohio 45246

Thursday, October 26, 2023

Hamilton County's New Prosecutor Melissa Powers Visits EmpowerU!
Hamilton County Prosecutor Melissa Powers announced the creation of the Elder Justice Unit. As access to and reliance on technology grows,  millions of seniors are abused and targeted by scammers looking to take advantage and exploit our most vulnerable. The Elder Justice Unit will help prevent the financial exploitation and abuse of seniors in Hamilton County by providing resources to law enforcement, banks, and community members.
The Elder Justice Unit will not only prosecute crimes against the elderly, but will also represent Hamilton County Jobs and Family Services as they aim to protect seniors and aid their families in navigating the probate court process through their Adult Protective Services division.  The Prosecutor's Office has also designated a helpline (946-SCAM) for individuals to contact if they have been scammed, are receiving calls or other electronic communications and think they might be scammed or think a member of their family has been a victim.    If you believe you have information or would like to report a recent scam CALL 946-SCAM.
Melissa Powers will also be with us tonight to take questions and discuss the important issue of crime in Hamilton County.   What about Bail requirements?   How is Hamilton County doing compared with some of the other urban cities?   Are the judges holding criminals accountable?   Melissa will take your questions and bring you up-to-date information including her thoughts on the importance of providing justice and closure to victims of violent crimes and their families.
Speaker Bio: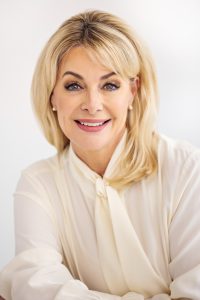 Melissa Powers began her legal career in 1991 working as an Assistant Prosecuting Attorney in Hamilton County's Juvenile, Municipal, and Common Pleas Courts.  She also practiced in the Appellate Division, arguing cases to the 1st District Court of Appeals.  Most notably, in 1997, she obtained the confession from Joseph Paul Franklin, a white-supremacist serial killer.  This confession finally solved the 17-year-old double murder of two boys in Cincinnati.
  In 1998, Melissa left the Prosecutor's Office to begin her private litigation practice, where she specialized in criminal defense and civil litigation. In 2006, Governor Bob Taft appointed Melissa to serve on the Hamilton County Municipal Court.  During her 10 years in the Municipal Court bench, she established the first Hamilton County Veterans Treatment Court that incorporated an innovative team approach and community collaboration to address the unique needs of justice-involved combat veterans. This highly successful treatment court was a model used throughout the State of Ohio as it concentrated on reducing recidivism by focusing on alcohol/drug addiction and Post Traumatic Stress therapy.
In 2016, Melissa was elected to serve on the Hamilton County Juvenile Court.  There, she presided over custody, dependency, and delinquency cases; including hundreds of violent felonies committed by juvenile offenders.  Melissa was the Juvenile Court Administrative Judge from 2020-2022.  As Administrative Judge, Melissa was responsible for managing 300 employees and a $35 million budget.   On January 24, 2023, Melissa was sworn in as Hamilton County Prosecutor to serve the unexpired term of former Prosecutor Joe Deters.
Melissa is a lifelong Cincinnatian, graduating from McAuley High School in 1979, the University of Cincinnati in 1984, and the University of Cincinnati College of Law in 1991.  She has served on numerous boards, including Cincinnati Works, Operations Legal Help Ohio, Cincinnati Fire Foundation, and the Tri-State Veterans Community Alliance.  Melissa is married and is the proud mother of four children and grandmother of four grandchildren.