5 Universial Concepts Every Gun Owner MUST Understand
EmpowerU Studio at Frame USA
225 Northland Blvd
Cincinnati, Ohio 45246

Tuesday, October 17, 2017

To View a Complete Recording of this Class Click Here
  Do you know that just touching a gun might be considered lethal force … that "stand your ground" means something different in every state … that you may be judged by a "reasonable man" standard?
Attorney and gun law expert Sean Maloney from Second Call Defense will review the basic concepts of lethal force, how they are interpreted by the legal system, and what it all means for you as a gun owner.
Sean Maloney is a defense attorney and member of the National Association of Criminal Defense Lawyers who practices in all areas of firearm-related law, including 2nd Amendment rights, criminal defense, federal and state restoration of gun rights, and federal NICS appeals. He has appeared as an expert witness in a variety of civil lawsuits related to firearms.
As a Leader of Buckeye Firearms Association, Sean has been traveling throughout Ohio, and the United States; meeting with School Boards, and assisting them in implementing F.A.S.T.E.R.  A program launched by Buckeye Firearms Foundation to provide "active killer" training to teachers and administrators. Sean Maloney serves as legal counsel for Buckeye Firearms Association. Sean is also co-founder of Second Call Defense (www.SecondCallDefense.org), a national organization that provides complete legal protection for armed self-defense, with thousands of members in all 50 states.
Jim Renacci, Governor Candidate for Ohio will speak from 7:00-7:15 PM
EmpowerU is pleased to announce that candidate for Governor of Ohio Jim Renacci will start off this Tuesday's session from 7-7:15 pm.   EmpowerU is trying to bring all the Governor candidates to our sessions to allow our class attendees to meet the candidates.   (This visit by candidate Renacci does not mean that EmpowerU endorses or favors Renacci's candidacy).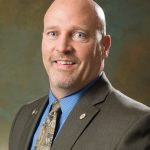 Sean Maloney