Growing Up Under the Swastika
EmpowerU Studio at Frame USA
225 Northland Blvd
Cincinnati, Ohio 45246

Thursday, March 2, 2017


To View a Complete Recording of This Class Click Here

Sonja Stratman shares her captivating story of growing up under Hitler's regime.

During his reign many German cities were destroyed, and the country was worse off than before Hitler came to power. At age 10 she and her classmates joined the Hitler youth not understanding the meaning of their participation.

As the war continued and her family's safety was threatened, her father was forced to reveal the true nature of Hitler, changing Sonja's world forever. For the next several years, the Bochmann family struggled for survival in a war-torn, devastated city.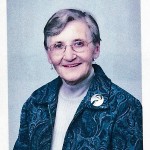 Sonja Stratman

To attend this class virtually click here after 6:50 pm the night of the class.