**Class Cancelled**Early Warning Signs of Drug Addiction and what we can do to stop the tide of drug trafficking
EmpowerU Studio at Frame USA
225 Northland Blvd
Cincinnati, Ohio 45246

Tuesday, March 20, 2018

This Class Has Been Cancelled.  We apologize for any inconvenience this might cause.
Early Warning Signs of Drug Addiction and what we can do to stop the tide of drug trafficking…. What are the early signs of addiction? How should you respond to them? How can you be instrumental in help stemming the tide of this drug epidemic? Do not miss this opportunity to learn from Chief Synan, Police Chief of Newtown, as he shares his experience and expertise with us.
In 2014, after watching the last of an entire family die from drugs, the last two from heroin, Mr. Synan met with other members in Hamilton County and helped form the Hamilton County Heroin Coalition where he sits on the Steering Committee and Chair Interdiction. Mr. Synan coordinates law enforcement efforts to reduce supply and works with other members to help reduce demand.
Chief Synan will address many issues including:
What does addictive behavior look like, and what are the early signs of addiction in teenagers? 
What can parents do to stop the behavior before it becomes a full blown addiction?
What does the drug dealer gain from synthetic drugs, how strong is addiction, is incarceration the answer for the addicted abuser? 
Why Chief Synan believes there should be no limit on the number of times Narcan is administered, understanding the drug abuser is not the villain in drug addiction. 
You'll leave this class with a better understanding of addiction, why this epidemic is out of control, and just what our law enforcement and first responders are dealing with.   What can you, the average person, do to assist reducing the damage this epidemic is causing in our society?
Speaker Bio:
Mr. Synan's wide experience has allowed him to have a unique look into the heroin crisis. Mr. Synan is a United States Marine Corps veteran and a 24-year police veteran with the Newtown Police Department. For the last 10 years he has served as Police Chief and as a SWAT Team Leader veteran.
Mr. Synan was asked to testify in Washington D.C. at a U.S. Senate Homeland Security Committee giving testimony on synthetic opiates and the impact Fentanyl and Carefentinal have had on the country. Mr. Synan was a speaker with President Clinton and other distinguished panelist for the Clinton Foundation discussing the opioid crisis. His work with the Coalition has been used in national and international publications and media outlets. Mr. Synan has spoken internationally on the heroin issue. Mr. Synan has been able to see all the ways that heroin touches lives and all the efforts it takes to help individuals, families struggling with addiction and the impact on communities; and has an in-depth understanding of the complexity of this issue.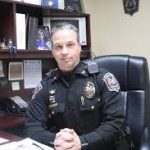 Chief Thomas Synan Jr.