Meet and work with the incredible artist's at Visionaries and Voices
EmpowerU Studio at Frame USA
225 Northland Blvd
Cincinnati, Ohio 45246

Wednesday, June 22, 2022

This Class has been CancelledIn this class, students will be using Jackie Fisher's bold line drawings as inspiration for their own versions of similar drawings. Using black permanent marker, gel pens, and washable marker, Jackie will lead students through her process of line making on pieces of cardstock paper. Once students have covered the entire 8.5 x 11 sheet of paper in their marker design, facilitators will help them to cut their paper into strips, approximately 2-3 inches thick. Once the strips have been cut, students will choose the strip with their favorite composition to laminate into a bookmark. Once laminated, students will punch a hole in the top of the bookmark and add a tassel using colorful lanyard string.  This class is limited to 20 people.
This is your student or child's opportunity to meet and work with an incredible artist from Visionaries and Voices.   The Tri-County V&V Studio has been located at the Frame USA Building for the last 15 years.   See their great work in retail store area.   Don't miss this creative opportunity.
Click HERE to visit Visionaries and Voices' Website

Speaker's Bio: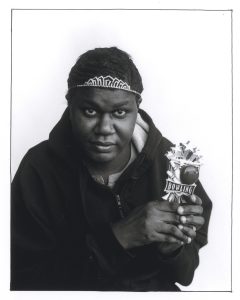 Jackie Fisher- Jackie is known for her maze-like vibrant marker drawings. She begins her compositions with a large "S" shape. From that initial mark she creates pencil curves and shapes that reflect the twisting and turning of feathers, scales, roots, and rivers. These works recall bold graphics of tribal tattoos, inked onto magenta and sky blue, lavender and citrus orange backgrounds. ( This photo of Jackie is from a project done by artist Michael Wilson called Cherished).