An Airman's Perspective of a Desert Deployment
EmpowerU Studio at Frame USA
225 Northland Blvd
Cincinnati, Ohio 45246

Tuesday, March 6, 2018

To view a complete recording of this class click here. This class shows and discusses the culture of the people who are located near bases where our military are serving in Kuwait.  Not all locals are terrorists and many are quite willing to show off and share their pets – particularly the Camel.
This is a class you won't want to miss, hear from the speaker's firsthand experience what it's like to live in the desert.  You'll learn about the land, climate, business customs, economy, government, voting, health plans, education, language, dress, customs, courtesies, recreation, hobbies, why Camels are in Kuwait, and much more.
Speaker Bio:
Major Timothy A. Anglin deployed as the Director of Operations, 387th Air Expeditionary Squadron, Ali Al Salem Air Base, Kuwait.  He provided administrative and operational control to over 350 Joint Expeditionary Tasked (JET) Airmen and Individual Augmentees (IA) serving at numerous locations throughout the Levant and other Gulf Coast Countries (GCC) in support of Operation INHERENT RESOLVE.
As an Ohio Air National Guardsman, Major Timothy A. Anglin is the FSS Director of Operations in Columbus, Ohio.  As the Director of Operations, he administers and supervises the FSS staff in their support of the 121 ARW to ensure mission readiness of over 1,200 personnel that serve our communities, state and nation for both homeland defense and federal missions.
Major Anglin entered service in 1985 and has served in various operations and command positions in the United States Air Force and Ohio Air National Guard and was acting commander of the 123rd Air Control Squadron and served as the J-1 for the State Headquarters Ohio Air National Guard.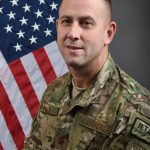 Major Timothy A. Anglin